Sleep is important. We all know that.

But the question is… Do you find it hard to get a good night's sleep? 
I used to toss around a lot in bed, making it my life's mission to fall asleep but failing miserably each time. 
But after discovering these easy secrets to good sleep, I now enjoy some of the best sleep I've ever had. 

You can't put a price on a good night's sleep, so here are the secrets to getting good sleep each night. 
1. Switch to Quality BedSheets
You may settle for regular sheets that don't cost much (like me, once upon a time). But trust me, quality bedsheets make a huge difference to your sleep. Good quality sheets don't actually cost that much, especially if you think about how you are lying in them for hours every day! Good sheets make a lot of difference to your comfort level and it is also better for your skin.
Ever since Matt and I discovered the impact of good-quality sheets, we've been obsessed with them. I wake up feeling refreshed, and can't wait to go to bed each night. I even started gifting these quality bed sheets to my family and friends!
We are currently sleeping on the HeavenLuxe 100% Austrian Tencel Bedsheets. It is buttery soft, silky smooth and cool to the touch. It essentially turned our bedroom into a sleep haven.
2. Get a Quality Mattress with Good Support
There are mattresses that cost a few hundred, and some cost a few thousand. While it might be tempting to get a cheap mattress, trust that you are going to pay for it in the long run (with your back and bad sleep).I strongly encourage you to invest in a good quality one.
I have a full guide on how to choose a good mattress, but in summary, follow these 3 golden rules when buying a mattress:
Get one with 

good

 support
A good mattress will conform to your spine, keeping it well-aligned. It should also distribute your weight well and is pressure-relieving.
Get one that suits your individual needs
Get a mattress with a firmness that suits you. If you face the issue where you and your partner prefer a different firmness level, check out the Hallmark Grandeur Mattress. You can customise the firmness level for the different sides. And even within your own sleeping zone, you can adjust the firmness level for your head, mid-body and bottom section. This is the mattress that Matt and I both decided to get, and we've been sleeping very soundly on it ever since it arrived!
Made with quality materials 
You spend one-third of your life in bed. Most allergies are caused by dust-mites in your mattress. So make sure you get a mattress made from quality materials that are dust-mite resistant, mould-resistant. Ensure that your mattress also does not contain chemicals as well. The Hallmark Grandeur has gone through sanitised treatment to eliminate microbes and parasites, which made us feel safe using it. I once bought a cheap mattress that had a chemical/plastic smell that wouldn't go away even after airing it (smells dangerous!) – I had to get rid of it. It's better to invest in a good mattress that you know is safe.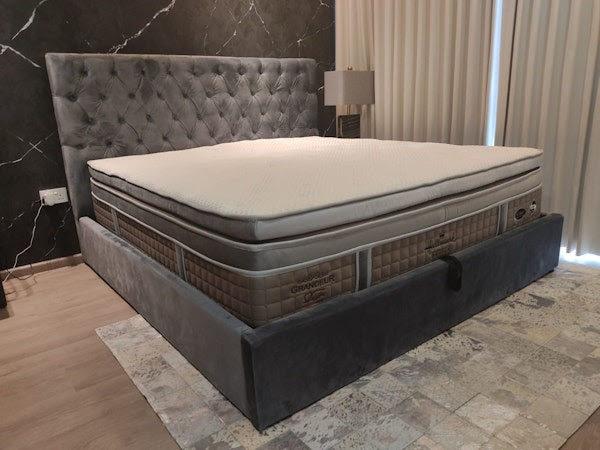 3. Get

good

 pillows
Your pillows are more important than you think. 
While the importance of a good mattress comes quite instinctively, I never thought much about my pillow. I spent most of my life sleeping on $30 pillows. I only started to consider upgrading to a better pillow when I started to get weird neck aches.
As always, I dive myself into research. And found out that a good pillow is actually just as important as a good mattress. It provides your neck and upper back support, to help maintain proper alignment of your spine.
TLDR: get a good pillow with good fill and good support. And good quality so it will last over time (otherwise it will depress and then the support function is lost). 
Oh and make sure it is hypoallergenic. Your pillow comes in super close contact to your face, mouth and nose for long hours. Make sure your pillow is dust-mite and mould resistant, otherwise you will be breathing in a ton of disgusting stuff! Try to get a pillow that comes with a washable cover, so that you can keep it clean and hygienic (very important esp for those who suffer from acne-prone or sensitive skin!).
Our research on the best pillows in Singapore led us to find Origin Superior Coolmax® Latex Pillow to be a great pick, both in terms of quality and pricing. 
There are some really great quality pillows (like the Simmons Beautyrest that has pocketed coils) but they cost about $200 – $300. I guess a part of me wasn't ready for that price jump, so I think the Origin pillows comes at a good price for its quality.
Why get the Origin Latex Pillows: 
It is made of natural latex infused with Origin's cooling-gel formula. Compared to memory foam or fibre (the regular pillows), latex is denser and will provide better support for your head and neck.
Latex is hypoallergenic and durable with anti-dust mite, antibacterial and anti-microbial properties.
Impression-resistant, so it can hold its shape for many years while still feeling soft and supportive
It comes with a removable Tencel washable cover that is cooling, environmentally-friendly, and absolutely comfortable.
Get 5% Off all Origin products storewide!
Use coupon code weddingvow5 on Origin's website. 
4. Elevate your sleep with a cosy comforter
Like bedsheets, not all quilts are created equal. We've been using a regular cotton comforter quilt, but the temperature regulation isn't that great and sometimes I wake up feeling sweaty. I decided since I was going to change up my bedding, why not go all the way?
I picked up this luxury hypoallergenic quilt by Oak & Sand, and it has magically turned my bedroom into a 5-star hotel (it feels like I'm having a staycation every night!). The ultra-fine fibre fill evenly distributes across the bed (my old one used to have odd lumps), and it effectively regulates temperature (that's what made me first get it!), allowing me to sleep through the night comfortably.
Oak & Sand specialises in luxury hotel bedding. Their packaging is very exquisite and it makes for a perfect gift. They give you free shipping for orders over $48.
I hope that sharing the above has inspired you to upgrade your sleeping situation. If you are preparing for your new home, the bedroom is definitely an area to focus your energy (and money) on, as it's the space you will spend the most time in.
I've personally used all the products above. Let me know anytime at contact@theweddingvowsg.com if you have any questions. I'm just an email away!
Take care, and stay safe!